(Image credit: freepik.com)
When building a shared life, couples often come together to save money for a significant purchase. In the midst of a pandemic, where uncertainty lingers close like a shadow, being smart with money has never been more important. This year, partners are looking to the future and committing to a savings fund. By setting aside money for a big investment, couples hope to welcome a positive new chapter into their lives.
Traditionally, buying a house together is a notable milestone in a couple's relationship: the act represents the beginning of a devoted and intertwined life, characterised by mutual responsibility. This practice is still popular today, with searches for phrases such as 'mortgage calculator' increasing by 400% in the past year. (Google Trends) Many couples want to budget and see if they can take the plunge, getting the house they have always wanted. Though not an easy feat, it is an extremely rewarding and exciting decision to make as a pair.
Nevertheless, many people have been confined to their homes to stay safe during the pandemic. This has made some couples long to break free from the familiarity of their surroundings and travel to new places. The allure of exciting experiences and, in many cases, warmer weather is extremely convincing for many as they research getaway destinations.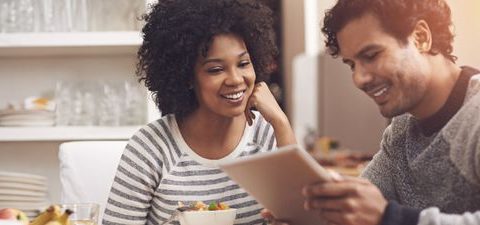 Consequently, holiday packages have surged in popularity: partners are saving for their dream vacation and anticipate embarking on an adventure once restrictions ease. In fact, upon the government sharing an optimistic 'roadmap out of lockdown' last month, EasyJet flight bookings from the UK rose 337%. (The Guardian) The high demand for travel reflects couples' money-saving habits during the pandemic and the desirability of a holiday as a key purchase.
Of course, flying is not the only mode of travel couples are opting for. Many people are saving for a car, recognising the transport's practicality and flexibility. With work duties and social events to attend upon the end of lockdown, a car is a convenient choice of purchase for a couple. Additionally, it tends to be a less expensive investment, making it a more realistic option for younger couples with fewer savings.
All of these investments commemorate a couple's dedication to one another, but arguably none of them symbolise ever-lasting commitment as overtly as saving for a wedding. Countless partners reserve funds for their special day, aspiring to showcase their love through a beautiful ceremony and reception.
Additionally, money for honeymoons has become just as crucial in financing the occasion. However, it is a big ask for two people to scramble together enough for the wedding of their dreams, and many choose to use online services such as a cash gift registry to garner financial contributions in honour of their marriage. Indeed, many couples use their cash gifts to pay for their wedding, but others choose to put the money towards a different purchase; the system is versatile and caters to any large purchase a couple is aspiring to make.
Ultimately, a couple should always consider what purchase is realistic for them and which methods would be best for achieving their financial goals. Agreement on a sensible saving pattern is key, as well as a balanced contribution strategy. It has not been an easy twelve months, but embarking on a savings plan will bring forth some stability and optimism for the year ahead.